Getting Started
Welcome to Content Controller! This document is a guide for users of the application. It covers setting up your user account and signing in, adding content and accounts, viewing reports, and administrative functions. If you are a system administrator, you will probably find the Hosting and Deployment documentation more helpful.
What is Content Controller?
Content Controller is a web-based application for distributing learning content to learning management systems (LMSs). It solves the problem of making learning content available to learners in multiple LMSs while maintaining visibility and control over how the content is used. Typical use cases for Content Controller include:
Content vendors who need to make their content available from customers' LMSs, but who also want to enforce limits on usage.
Product companies who need to provide training to customers, but struggle to ensure that users are receiving the latest updates.
Organizations with multiple in-house LMSs who want to manage all their training and reporting from a central location.
Your User Account
Before you can use Content Controller, you must have a user account. Your administrator will either provide you with credentials and a link to the sign in page (in which case, you can skip ahead to Signing In), or you will receive an email like the one below.

Following the link will take you to Content Controller's password reset page. Passwords must be at least 8 characters long, and should contain a mix of upper and lowercase letters, numbers, and punctuation. The page will warn you if your password is too short or too easy to guess.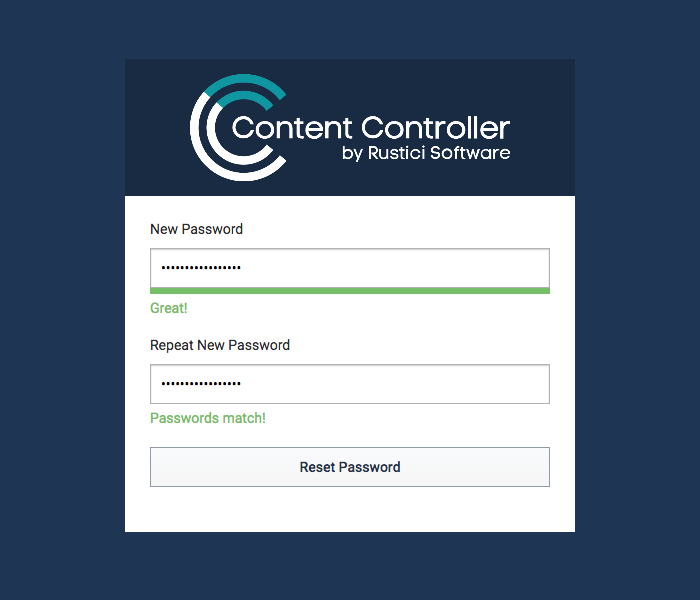 After entering and confirming your password, click the "Reset Password" button. You will see a message confirming that your password has been reset, and another button that will take you to the sign in page. You will also receive another email welcoming you to Content Controller and providing you with links to some useful resources.
Signing In
At the sign in page, enter your email address and password, and click the "Sign In" button. If you enter an incorrect password too many times, your account will be locked and you'll need to contact your system administrator.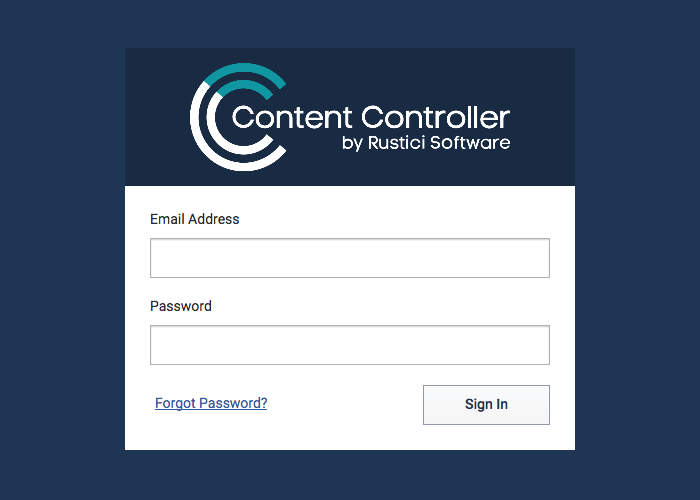 If you've forgotten your password, click on the "Forgot Password?" link, then enter your email address and click the "Reset Password" button. You'll receive an email with a link that will let you set a new password as described above.
The "Forgot Password?" link is only available if your system administrator has configured Content Controller to send emails. If the link is not available in your application, you will have to ask an administrator to reset your password for you.
Editing Your User Account
Once you have signed in to Content Controller, you can update your user account name and email address, and change your password, by clicking on the gear icon on the right side of the top navigation bar and then clicking the "Account" link.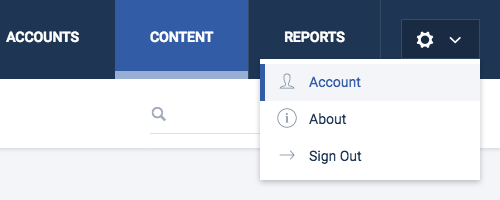 The "User Details" dialog has fields for your name and email address. You can close the dialog by clicking the "X" button in the upper right corner, or save your changes by clicking the "Save Changes" button. You can also change your password by clicking the "Change Password" button and entering your new password.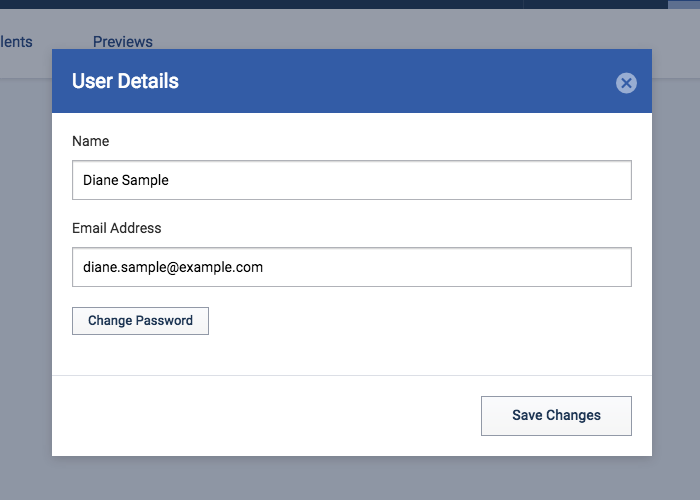 Please be sure your email address is correct. Otherwise, you will not be able to reset your password using the sign in page's "Forgot Password?" link.
Signing Out
Users are automatically signed out after 24 hours. To manually sign out of Content Controller, click on the gear icon on the right sight of the top navigation bar, and then click "Sign Out".
Terminology Defined
Content Controller is a large application, but its features are based on a small number of concepts. Understanding the terminology used in Content Controller (and in this guide) will go a long way towards helping you understand those concepts, and how all the different features hang together.
What is Content?
Content can refer either to a course that has been imported into Content Controller, or to an equivalent that has been created from a list of courses all that present the same material in different languages. Courses are usually packages that have been published from an authoring tool as SCORM 1.2, any edition of SCORM 2004, AICC, cmi5, or xAPI.1 Each course or equivalent in Content Controller can be shared as a SCORM 1.2, SCORM 2004 3rd edition, or AICC package, or as an LTI tool provider, that can then be imported into an LMS and launched by a learner.
What are Accounts?
An account (not to be confused with a user account) is the way to control access to your content in Content Controller. You'll create an account for each of your clients, and then add the content that you'd like to share with that client to their account. Accounts allow you to see at a glance what content has been shared with each client, and how that content has been used. They also allow you to change course configuration settings, error messages, and the player's appearance, for each of your clients.
What are Licenses?
A license is a set of limits on how content is used. These limits can be on the number of learners who can access the content ("up to 10,000 learners can take this course"), or on the amount of time that that content is available ("you have access to this course for 365 days"), or on a combination of the two ("up to 10,000 learners can take this course, within the next 365 days"). Content Controller allows you to attach a license to each course or equivalent individually as it is added to an account, or to an account as a whole.
Getting Support
Our support team is available to answer any questions or help solve any problem you have while using Content Controller. You can contact us by email at support@scorm.com, or by phone at 866.497.2676. There is also a knowledge base of articles about Content Controller, including release notes that you can follow to be informed when new releases become available.
When you contact us for support, our team may ask you what version of Content Controller you are using. You can find out by clicking on the gear icon on the right side of the top navigation bar, and then clicking the "About" link.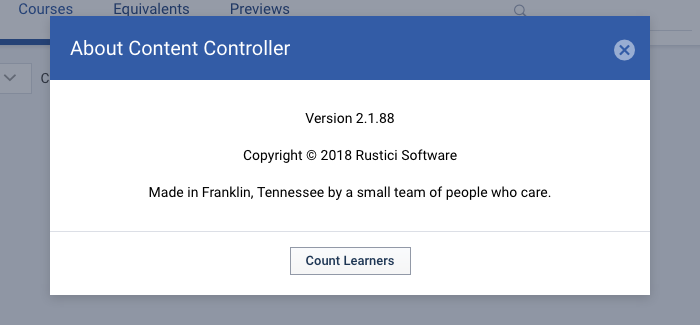 ---
1. Content Controller supports xAPI content that can be imported into and launched from an LMS. Authoring tools sometimes call this a "Tin Can" package. ↩